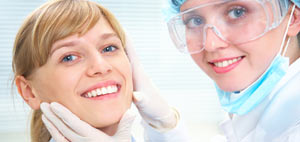 With beautiful views of the mountains, why wouldn't you want to visit us? Location in downtown Canmore on 820 Main Street, Unit 207. At Absolute Dental Care, our goal is to provide exceptional and comprehensive dental care to our patients in a friendly and caring environment, educating and encouraging them towards a state of optimal oral health.
Absolute Dental Care is a GREEN dental practice boasting paperless patient files and digital x-rays that have 90% less radiation then traditional x-rays, saving the environment from harmful chemicals. This means our patient records, digital x-rays, digital photos and other items relating to care are saved in a digital format, saving a tremendous amount of paper!
We will provide you with a nice, relaxing atmosphere with views of the Three Sisters and the Peaks of Grassi! Our number one priority is the best possible visit for each and every one of our patients!
We have TV's in all our examination rooms to keep your mind off your dental treatment, and each room provides our patients with the comfort of privacy that they expect and deserve.
Our goal is to understand and meet the needs of all our patients, involve them in decision making about their treatment and encourage them to participate fully. As your partner in promoting good dental health, we are committed to working with you to achieve the perfect smile.
Our desire is for each patient to have a beautiful, healthy smile that will last a lifetime! Every person is unique and each smile is distinct!
Meet Our Dentists
Learn more about our caring and professional team
Our Services
We are proud to offer a wide range of dental services and procedures
Do you have a dental emergency?
All patents with a dental emergency that is causing you pain, please contact one of our offices for an immediate appointment.